Table of content
Files & Customization
---
Sprite Editor
The sprite editor is the first thing you will see when you create a new sprite: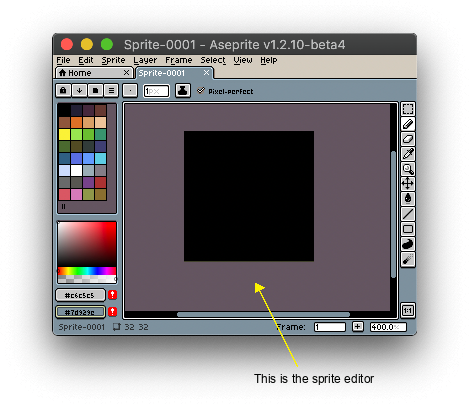 On the sprite editor you can:
Draw with mouse clicks or a stylus/pen, or with one finger on a Windows Surface device.
Zoom with the mouse wheel or with a pinch-like gesture on a MacBook trackpad or the Windows Surface screen.
You can also scroll/pan with the mouse wheel and Shift key, or using two fingers in the MacBook trackpad or on Windows Surface screen.
Preferences
There are a lot of things of the Sprite Editor that can be customized from Edit > Preferences > Editor like:
Zoom with the wheel: Checked by default, you zoom with the mouse wheel (if you uncheck this, the vertical scroll will be the default action for the mouse wheel)
Zoom sliding two fingers up or down: This is available on macOS only, and if you enable it you will be zoom using two fingers in your MacBook trackpad.
Zoom from center with scroll wheel: Check this if you want to zoom from the center of the sprite editor instead zooming from the mouse position when the mouse wheel is used.
Zoom from center with keys: Zoom from the center of the sprite instead of the mouse position when we use the keys to zoom 1, 2, 3, etc.
Show scroll-bars in the sprite editor: Uncheck to hide the scroll bars.
Auto-scroll on editor edges: With this option checked, when you are drawing (have the mouse button pressed) the mouse touches the edges of the sprite editor, it will scrolls automatically.
Preview straight line immediately on Pencil tool: When you use the Pencil tool, pressing the Shift key will draw a straight line from the last painted point. With this option checked, you will see the line preview immediately after pressing the Shift key (instead of waiting for the mouse button). If this is too annoying for you, you can uncheck the option.
Discard custom brush when eyedropper is used: If you create a custom brush with Edit > New Brush option, using the eyedropper tool will change the color of your brush. Checking this option, after picking a color with the eyedropper, the custom brush will be completely discarded and a a regular brush with the picked color will be selected.
Right-click behavior: you can customize what action to do with the right-click.
---
SEE ALSO